The 36-incher. The one with shimmery white scales, marbled black and orange.

It's the koi that could help bring the Belle Isle Aquarium back to life by creating life.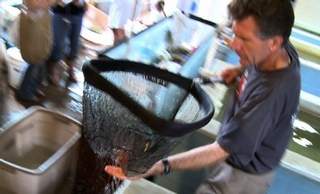 Rick Armes moves koi and goldfish from a holding tank in the basement of the aquarium to containers so they can be carried to an outdoor pond. Most of the fish were moved over the weekend; others will move this week.
Champions of the historic Detroit fish house -- closed by the city in 2005 because of budget problems -- want, with the support of the city, to breed Moe and some of his koi comrades, sell the offspring, raise funds and use the money to help reopen the aquarium.

Koi, with their distinctively colorful bodies and long life spans, can fetch thousands of dollars per fish, said Detroiter Darald Chaney, a consultant to the Friends of the Belle Isle Aquarium, who builds ponds.

The group has been toying with the idea for a few months, but knows it's not the only solution. A benefactor or grants or even just more donations wouldn't hurt.

But, Chaney said, one thing's certain.

"If it wasn't for those fish, there'd be no hope."

Friends of the fish
In the dank basement of the aquarium over the weekend, fish nets were sloshed in and out of a giant tank with vigor, splashing water into muddy puddles on the concrete floor as volunteers caught wriggly koi.

The fish were plopped into plastic containers filled with water and carried, carefully, to a newly refurbished pond between the aquarium and the island's conservatory.

The Friends of the Belle Isle Aquarium took over care of the koi, which were spared in the massive exodus of more than 4,000 fish and other marine life after the aquarium closed, because they spend most of their days in that pond.

"Take your time, take your time," Vance Patrick, president of the group, said as two children swayed with a heavy, fish-filled bin. "You've got a lot of lives there you're responsible for." Most of the fish were moved, but a few, including Moe, remain in the tank and will be transported this week, said Patrick of Southfield.

Koi, depending on their pedigree and size, can sell for as little as $20 to as much as tens of thousands, Chaney said. He guesses that Moe is a pure Japanese koi, worth more and a good candidate for breeding.

If the group is successful in starting a breeding program and getting the aquarium reopened, there is another problem to consider: Keeping it open.

People in the group say they don't know how much it would cost to renovate, restore and restock. Admission revenue helps, but Jennifer Boardman, secretary of the group, suggests renting out the space for weddings. Or holding art exhibits. Anything to draw attention and bring in extra money.

"So that it could sustain itself," the Lathrup Village resident said.

Finding a way
In the emptied aquarium, pebbles and parched coral sit in dark, lifeless tanks behind dusty glass. Underneath are questions for the curious: "Do fish drink water?" "How can you tell the fish's age?" "Do fish get married?"

The aquarium opened Aug. 18, 1904, and claims to be the oldest in America -- the sign at the entrance says so.

Patrick and his group have been trying to revive the landmark since it closed. They've been raising funds at events and plan to be at the Detroit Belle Isle Grand Prix in August. Standing outside the aquarium Saturday, he pointed to Detroit's seal, carved above the entrance. "Speramus Meliora," it reads in Latin. "Resurget Cineribus."

Fitting, Patrick said, given the translation: "We hope for better things. It will rise from the ashes."

Contact GINA DAMRON at 248-351-3293 or gdamron@freepress.com
---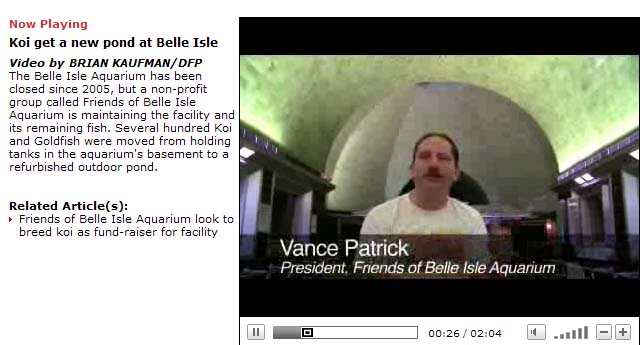 Video by BRIAN KAUFMAN/DFP
Click for video link
Follow link to original Free Press Article