Aquarium Tour 2005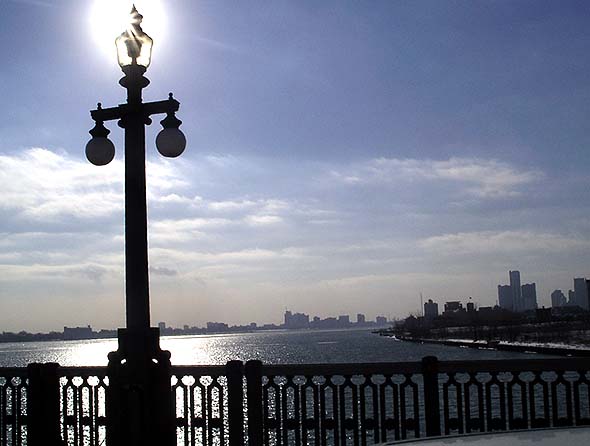 To get to the Aquarium, one has to cross the Belle Isle Bridge from Detroit. The view is spectacular. On the opposite side of the Detroit River you can see Canada, as well as an impressive view of The Renaissance Center in downtown Detroit.
The Belle Isle Aquarium was North America's oldest continuously operating public aquarium. It was opened in 1904 and is located on Belle Isle, the Detroit River's beautiful 1,000-acre park. The Aquarium currently displays 60 exhibits with a total capacity of 32,000 gallons of water. It is also home to 1,500 individual animals of 146 species. Of these species, 18 are officially listed as endangered, threatened, or already extinct in the wild.

There was approximately 10,000 gallons of refrigerated fresh water featuring many native Detroit River species such as trout, bass, pike, perch and walleye. The remaining exhibits were tropical freshwater and marine displays, including coral reef fish.

Endangered or very rare species exhibited included Charco La Palma pupfish, desert pupfish, green goodeids, blue-tailed goodeids, golden skiffia and Lake Victoria mouthbrooders.

The Aquarium was best known for successfully breeding and rearing freshwater stingrays including the dwarf, checkerboard and occelated species. The most notable success was with the occelated stingray which has been raised through three generations.

Offspring of dwarf stingrays were distributed to more than twelve institutions across the United States. Two of those institutions have also produced captive-born offspring using the Belle Isle Aquarium's technique. In fact, the Aquarium earned the prestigious Zoo and Aquarium Bean Award in 1976, 1980 and 1985 for its success.

Perhaps the most popular stop at the Aquarium was the electric eel exhibit. This unique display dramatizes the discharges of the eel in visual and audible demonstrations.

In 2005 Belle Isle was ranked fifth among major urban parks in America, after Golden Gate in San
Francisco, Central Park in New York, Balboa Park in San Diego, and Oglebay Park in Wheeling, W.Va.
The Aquarium was closed down in 2005 due to the City of Detroit's budget problems, so we have created this section of the site as a the Belle Isle Virtual Aquarium Let's take a walk though the place. Look at the building - look at the fish.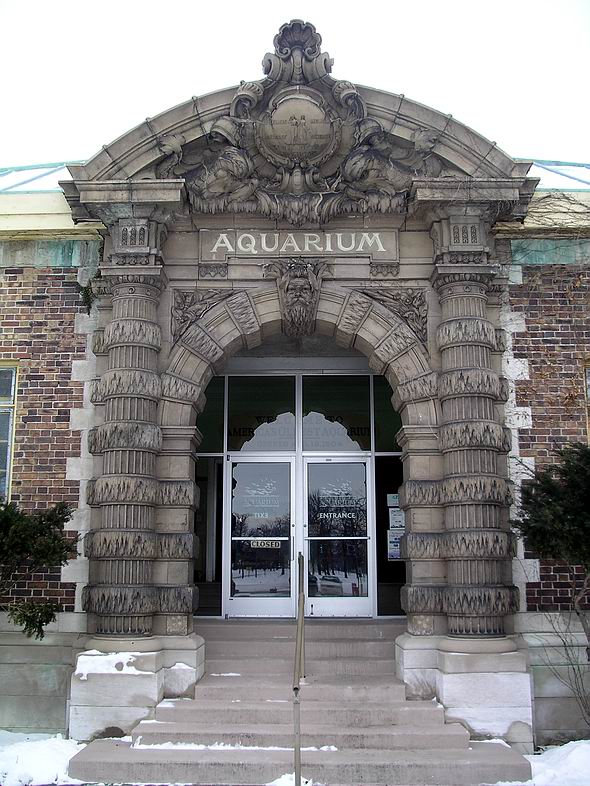 Walking up to the aquarium, take in the magnificent facade. The aquatic theme is apparent. This kind of detailed stone carving is becoming a lost art.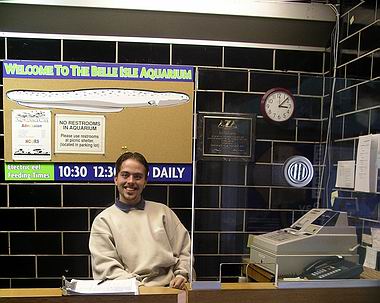 The atmosphere inside is relaxing, the personnel friendly and helpful.